Es Vicari is one of those spots at Sa Creu Nova Petit Palais Art & Spa that allow you to enjoy unique moments.
A full cocktail bar, open to the general public, in an atmosphere of luxury, tranquility and uniqueness, for those seeking quality and excellence.
Just a few minutes' from the paradisiacal beach of Es Trenc, our Barman José Cortés will offer you a taste of a fresh, creative and innovative cocktail menu, where you'll find everything from the great hits of cocktails, to the proposals on his new signature cocktail menu, full of surprises, such as his fun Pop Corn Cocktail with its intense bourbon flavour, some salty notes and a light hint of hazelnut, served in a traditional popcorn package.
Or, the Es Vicari cocktail, inspired by yesteryear, when, within our Petit Palais  there was the Sa Creu house inhabited by Joan Ballester, who, at that time, was the Vicar of Campos, a cocktail full of personality and elegance.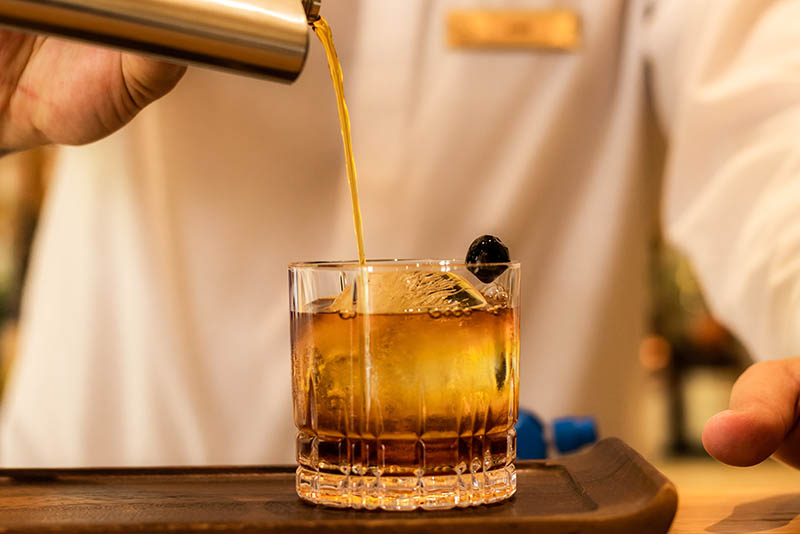 Let yourself be inspired here by the ES VICARI COCKTAIL BAR & SIGNATURE COCKTAILS menu. 
Behind the bar, you'll find our barman, José Cortés, born in Seville, where he took his first steps in cocktail making.
Curiosity and the desire to grow brought him to Mallorca, and it was here that he discovered signature cocktails, alongside fantastic professionals from whom he had the pleasure of learning.
After several years, Sa Creu Nova Petit Palais Art & Spa offered him the opportunity to work on a new cocktail project, where, after years of training and having participated in several championships, he now has the opportunity to express all his creativity at Es Vicari.